Roofing
Clear Cut Installations offers a wide range of designer colours and shapes of roofing materials to coordinate with your building's unique design. Soffit and fascia, roof vents, eavestrough and leaf guard can be installed at the same time.
Asphalt shingles:
Fibreglass Shingles
Fibreglass shingles have a base which is made from a woven fiberglass mat to which an asphalt coating is applied. The benefit of the fiberglass mat is two-fold: less asphalt is needed in the manufacturing process and the shingles are lighter while still remaining extremely durable. They are more environmentally-friendly and more durable than older, asphalt-only shingles. The top layer of granules is ceramic and protect the shingle from UV rays while giving your roof the color you desire.
Organic Asphalt Shingles
Organic asphalt shingles begin with paper, often recycled, that is saturated in asphalt and covered with granules. The shingles are heavier and harder to work with than fiberglass, but they generally offer better stability in high winds.
Metal Roofing
Metal has enjoyed a recent resurgence led by demand for durability, eco-friendly roofing and the introduction of new styles. Metal roofs come in variety of appearance options including the traditional metal roof style and roofing made to look like shingles, shakes and tiles. The most common metals used are aluminum, lightweight steel and zinc.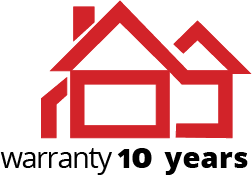 Our work is backed by a 10 year installation guarantee. We take pride in our professional attitude and work hard to make sure our installers are prompt, tidy on site and courteous throughout the entire installation process. Providing you with the product you expected, to your level of satisfaction is of paramount importance to us.

GAF ID NUMBER CE21696
Eavestroughs
Clear Cut installers manufacture your new eavestroughing onsite. You can pick out the colour that matches your home. Our mobile unit creates your eavestrough to your exact specifications, whether it's two or 200 feet long. Our responsible install crew will work with you to ensure a long lasting and attractive design is implemented. Our 10 year guarantee means you can count on the Clear Cut team.
Siding
Clear Cut Installations provides quality and affordable siding installation, repair and/or replacement in eastern Ontario.