Doors
Exterior doors are also offered to complete the package, including entry doors of either steel, wood, or fiberglass, plain or with decorative glass. Clear Cut installs beautiful, energy efficient doors. Whether as a retrofit or in new construction, your Clear Cut door sets your home apart. Top quality installation and our 10 year guarantee ensure your peace of mind.
Types of Exterior Doors
Steel Doors
Steel doors offer the best value for price. Durable and almost maintenance-free, Clear Cut offers 1 3/4" thick galvinized 24 gauge (G-40) steel doors that feature R-16 polyurethane insulation, polyflex, and double weatherstripping, including magnet weatherstripping, which seals the door like a fridge. There are hundreds of door lites, trims, colours and choices to fit your design needs.
Storm Doors
Looking for something truly special for your home's entrance? A vinyl, wood or aluminum storm door is a great choice. Storm doors have a number of benefits, particularly when it comes to added home security, functionality, and energy-efficiency. Your Clear Cut sales designer can help you find the right style for your home and lifestyle. Clear Cut is your trusted installation expert.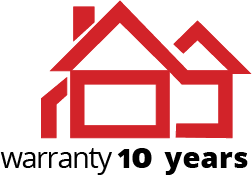 Our work is backed by a 10 year installation guarantee. We take pride in our professional attitude and work hard to make sure our installers are prompt, tidy on site and courteous throughout the entire installation process. Providing you with the product you expected, to your level of satisfaction is of paramount importance to us.